About me


I live with my husband and two sons in Bruges (Belgium).
In 1997 I published my first Young Adult novel: Don't tell anyone and I have since been very busy writing more books.
My last published Young Adult novel Moordgriet was selected for the shortlist of the Dutch YA-prize 'Jonge Jury 2015' and I have received a 'Vlag en Wimpel' as co-author of 'What Dog Knows' (author: Sylvia Vanden Heede).

Some of my books were translated into Chinese, Korean, Portuguese, Danish, French, Swedish and English.
This book is about you

So cute, so sweet, so snug.
​

This book is about little, lovable triple-trap-toes, about tender lips on a belly, about cuddle-soft hands and kissing-sweet cheeks. About being snug-close to each other and whisper-dear words. But above all, this book is about … you.

​

Click the cover to have a look inside the book.
Help! I was on TV!

- A book that reads like a train
- About the traps of (social) media

A funny and exciting story about the power of television.

Jane spills milk all over her pyjamas. Just when she got herself out of the wet clothes, the doorbell rings. I'll just wrap myself quickly in a towel, she thinks. But who is at the door? The famous television-host Tony Kapsony, with a camera crew! In no time, Jane goes viral ...
Won't you see me
"A compelling and impressive story."
(tboekenblog.blogspot.be)

"This has everything I like about a book: an impressive story with every word put in it's right place.'
(Simone Arts)



A story about a very lonely girl who wants to teach her parents a lesson they will never forget

. But things do not really work out the way she planned them...

This

funny and touching

story about a girl who is trying to get the attention of her parents

is well-loved by adults and children who have read it.
Killer Babe
"Moordgriet is a well-written and exciting story with a very suprising end. A book you can't put away while reading and that will play on your mind long after you've finished reading it."
(De Boekenkast)


A bloodcurdling thriller about a young woman who loses herself completely because of a traumatic experience.

Nominated for the Dutch YA-prize Jonge Jury 2015

When Willy Found His Wings

"The author carefully chooses her words and lets you read and feel a deeper level between the lines. It's touching and grabbing. I recommend it."
(Eric Vanthillo - Pluizuit)

"A wonderful, moving and poetic story that has moved me to tears. Read it!"
(Joke Guns)

Tender story about how parents have to let go of their children, and about how children have to search and find their own way in life.

Rights sold: Chinese (mainland), Danish

---
Something

"The author knows how to build and create an exciting story. You can almost feel the fear of the two boys. But what a relief in the end! A book, with colourful expressive illustrations, your child will want to read again and again and again."
(Jet Marcheau)


A funny and exciting story about two little brothers who hear something creepy. What could that be? Is it a monster? Or is Big Boy's imagination running wild?

Rights sold: Chinese (mainland), French

Little Turtle's Journey

"A story bout never giving up and making your dreams come true. Wonderfully painted colour- and cheerful illustrations"
(actuali.be)

This book shows western children how 'going to the doctor' is not everywhere as obvious. It also tells the story of Yomi's cuddly toy, a small turtle with a big dream.
Brightly coloured illustrations.

Rights sold: Portuguese, Korean
Aangestuurd door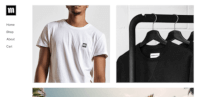 Maak uw eigen unieke website met aanpasbare sjablonen.